I've recently got myself an Alienware M14x R2 from Dell (in Japan). Now that I've customized it and got it to work just the way I like it, I'm writing reviews, infos and whatnot in the hope that this will help whoever it is out there that's thinking of getting this beast. In short, I'm lovin' this machine – expensive as it is – for what it has to offer. So here's a front pic on the guy – and yes I went for the nebula red (and not regretting it at all)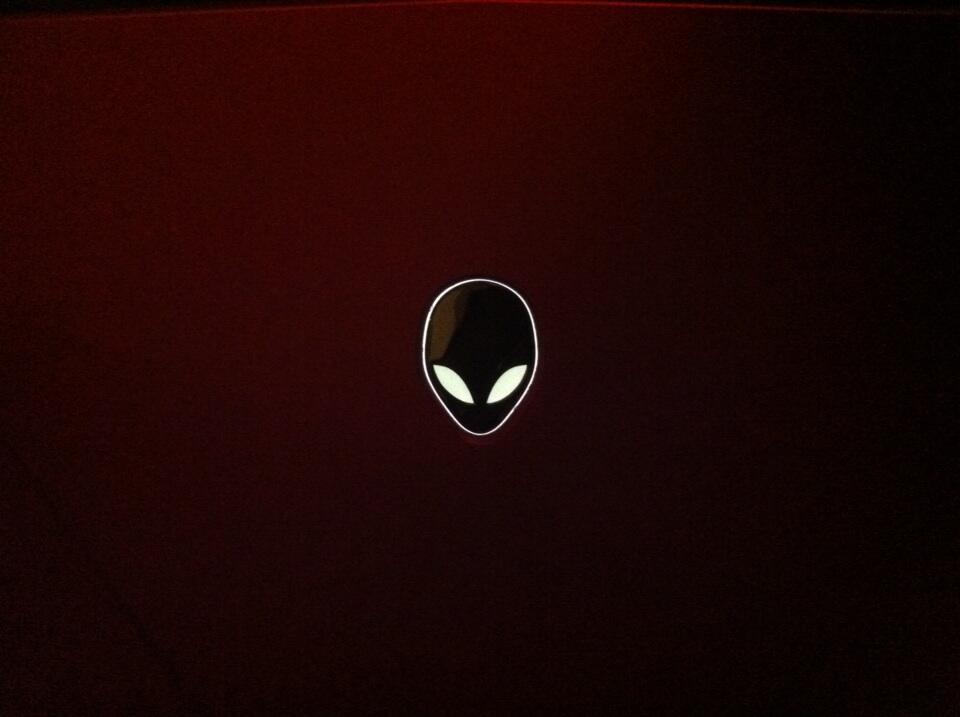 And one to show her belly 🙂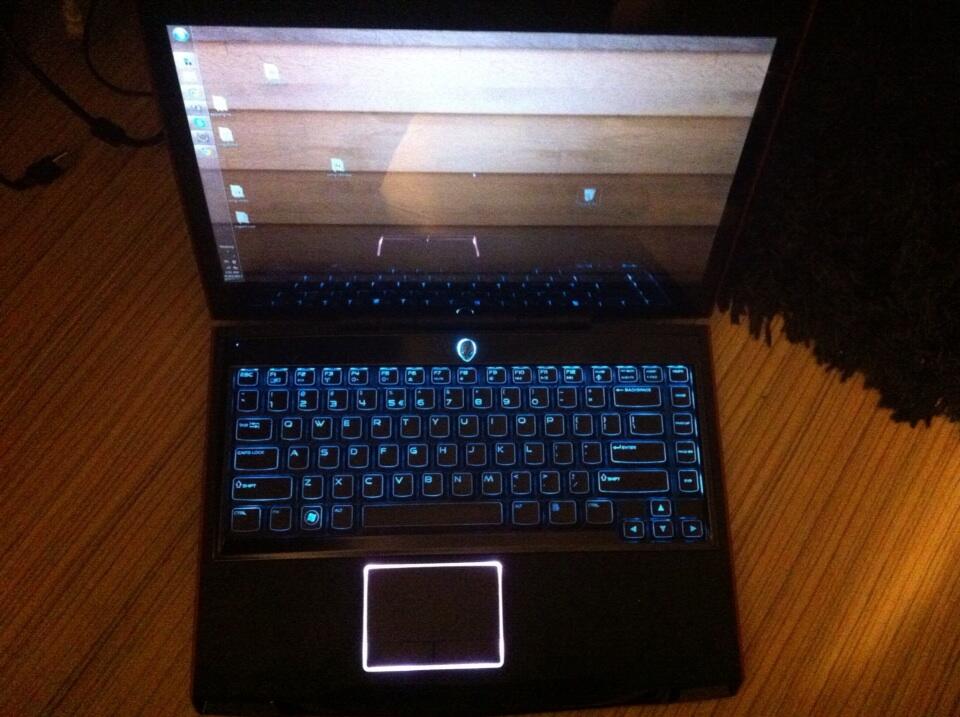 I don't know about you but I think this is one sexy beast. Anyways.
… Buying it in Japan?
Yes, did all my research via google and the excellent Notebook Review Alienware M14x Forum, and somehow managed to do the order via my broken Japanese. Most importantly, it is possible to specify to the Dell sales rep that you want to have the keyboard changed into english layout. As you can see from above, keyboard is in english layout. To see what options you have in Japan, check out Alienware Japan M14x R2 page. Use google chrome for the in-page translation and you will have a decent mileage.
The other thing is, just because you're a gaijin, doesn't mean you shouldn't haggle. Ask for a lower price. I got 3% off on top of the standard sales off the dell website – never try never know. I think I can haggle more but my japanese is just not good enough so I'm happy with what I got there 😛 (if you managed to haggle a lower price, let me know).
M14xR2 vs M11xR3 vs MBR/MBA vs Others
The laptop market is getting ridiculous lately – there's so much laptops variation on the market out there that choosing one (and sticking with it for 2 years) become a challenge. But after much consideration, I find that it boils down to a few steps. Firstly, to mac, or not to mac (aka. which world do you want to live in?). And secondly, to go for grunt, or portability?
I decided to not go the mac way as I wanted this to be my main coding machine, I own both The New iPad and ASUS Transformer TF101 tablet, and I find that the iPad (and the mac experience in general) is much more streamlined, but much more restrictive. I don't mind the restriction on the iPhone4 that I'm using at all, but that restriction bothers me a lot in the iPad. I reckon it will bother me A LOT if I had got in a mac. so I decided to go no-mac. Alienware laptops are also designed to be user-upgradeable, which means you can open up the laptop yourself and get your own aftermarket devices and dunk it into your laptop. (or take out parts that you don't use)
As to grunt vs portability, I go for grunt, just because of what I do.  The M14xR2 vs M14xR3 is a matter of value, I go for the m14xR2 for its keyboard (which is *very* nice to type on) compared to the m11x which feels very cramped. And the fact that m14xR2 has got Ivy processor on it. Took me a while to made up my mind and now that I have the laptop in my hand (and typing on it) I am not regretting my choice.
M14XR2 build
I went for a pretty decent build:
i7 3610m / 6gb ram / wled 900p upgrade / killer wireless upgrade / 2Gb NVIDIA 650 upgrade
But for the HDD, I didn't get the SSD upgrade via Dell. Instead I opted for an after-market SSD instead, because Dell's upgrade price is just ridiculous. The SSD that I got is the Crucial M4 256Gb SATA3. Note that putting in a new SSD means you have to do a clean install of Windows 7 and all of the Alienware M14x r2 driver into the new disk. But that's precisely what I want to do anyway, because the build that I ordered from Dell, because I'm doing it from Japan – came with Japanese as the default language for everything!! (yes I got a Windows 7 Ultimate just for this).
You can flip the language and whatnot, but with all the bloated software that dell loads into the windows 7 and all, I'd want to do a clean install anyway. Plus the SSD upgrade necessitates it, so there.
SSD install and Win7 clean install
Opening the laptop is quite easy – watch BlackHawk's Alienware M14x SSD Install Tutorial once. get screw drivers and pliers and you're ready to go. Here's one pic on the Alien Autopsy:
Some notes on the autopsy part:
When opening the battery ( top right in the above pic ), unscrew the 2 screws on the left, then unplug the battery from the board. you will find a flat plastic "bookmark" which you can pull up to lit the battery easily.The dvd drive and the hard disk has got these things as well.
Next is the dvd drive, unscrew the drive from the frame,but before detaching it, you have to unplug the flat yellow bus thing (no idea what its called – see pic above, middle right). You'll notice that it is attached to the white base – the white base can be pulled a little bit upwards using the small handle on its side (having a plier would make this job much easier). once its liften,the flat yellow bus thing can be pulled out easily. once that's done,detach the dvd drive.
Beneath the dvd drive is the hard disk, which we want to get into – again unscrew,lift, and unplug the black connector from the drive. Once detached, you'll find the drive is actually madeup of the frame/bay and the actual drive. Detach the drive from its frame/bay by unscrewing the screws on its side.
Get your ssd, put it into the bay, and put it all back in again in revrse order. So ssd drive in first, dvd, then battery. double check and make sure that all screws are in place, all cable connection are secured. pay special attention to the dvd drive 'flat yellow bus thing' onve its plugged back to the white base, dont forget to gently push the white base downwardsto secure it again.
Pnce all is secured, start your alien again- it should boot and warn you that there are no drive it can boot from.
Put in the windows 7 install cd into the drive and do a clean install. this time, I specified the base language to be English 🙂
Driver install order:
Got the below from Dell's Alienware M14x R2 Initial Drivers Installation page. The driver can be obtained from Alienware M14xR2 Resource DVD, which come bundled with the delivery of the machine (it's in the black envelope thing, just like how the windows 7 install DVD is).
I did the drivers following the Dell page in this order:
Dell Intel HM77 Panther Point Chipset
Dell Intel Management Engine Interface
USB 3.0
Media Card Reader
Intel Ivy Bridge HD Graphics
Intel Wireless Display 3.0 (Optional)
nVIDIA 650M – Network drivers
Wired networking: Dell Atheros AR8151 o
Wireless networking: § Dell Intel Centrino Wireless-N 2230,
Bluetooth: Dell Intel Centrino Wireless-N 2230 Bluetooth
Audio: Sound Blaster Recon3Di
SKIPPED ST Microelectronics DE351DL Free Fall Sensor – because I got an Solid State Drive (SSD) so no point installing this.
Synaptics Touchpad
.NET 4 install – download from here (not provided in Resource DVD)
Alienware Command Center (AWCC)
Multitouch Trackpad configuration
Again I found this out from the excellent Notebook Review Forum (http://forum.notebookreview.com/alienware-m14x/608362-m14x-multiouch.html) – the multitouch configuration for the trackpad can be enabled from the control panel. Go:
Control Panel > Mouse > Change Mouse Wheel Settings > Device Settings > Settings… (button)
Not sure why they disable this by default. Should've had this on!!
Quick Verdict?
I'm a very happy chap. This laptop is a beast. Especially after I installed the SATA 3 SSD, this thing is blazing fast.
Build quality is great, the monitor glare doesn't bother me much (yet), and the fan is not as noisy as some people claim. Tried Starcraft II on High while doing some script processing in the background and the fan didn't even kick up a notch. I think you need to play some crazy game or do some very crazy processing to make this laptop scream, it can take some decent load. Sound is awesome, the alienFX thing is fun to play.