Introduction
I bought an Alienware M14xR2 laptop back in mid 2012, and I have finally decided to install Ubuntu Linux on it, mostly because of the stabilizing NVIDIA Optimus driver. Here's the result
Also because I needed something to work on in the weekends apart from work. So obviously, I start my journey on Windows 7 booted up within the laptop. But first, let's clarify a few key points that many people (like myself) are wondering just before I took the plunge:
Can I dual-boot Ubuntu Linux with Windows?
yes, installing Ubuntu won't wipe out your windows, unless you specifically wanted it to go that way.
My Alienware is not yet setup with the right partition, during installation can Ubuntu Linux repartition the drive?
yes, and the installation process is very smooth and impressive. A lot better than when I used it back in 2010 (v10+), literally went without any hiccup.
Can Ubuntu Linux handle the NVIDIA Optimus graphic?
yes. via Bumblebee – also covered here.
Can I use Microsoft Office?
I installed my copy of Office 2007, didn't really own any 2010 so I don't know, but I think it should be possible. Office 2007 installation is covered here too.
Can Compiz run smoothly on Alienware M14xR2?
My first experience with Compiz was back when it runs on XGL, Ubuntu 6.10 – I tested it on a pentium3 800mhz PC (overclocked to give more juice), with a weak-ass graphic card that can barely run Warcraft 3 – basic Compiz setup runs smoothly then. In short: Alienware is a beast, it will handle ALL of the Compiz bling if you're one of those compiz fiesta lover.
Can I play games? 
I haven't tried SC2 and Diablo – but then again I don't play much games these days. I'd suggest to go with PlayOnLinux (which is a VERY smart use of WINE). Start with reviewing list of supported games on PlayOnLinux. In general though, if you are a gamer, I'd suggest not switching to Ubuntu – I don't see the point.
What about entertainment? 
Yes you can play music and watch video on Linux since time immemorial. If you have your vids and music on a network drive / windows share within your LAN, they can be mounted into local drive easily. Vids and music can be played from the network drive – just like how it works in Windows, if not better. I find Rhythmbox handles my music collection (over remote folder) much faster than MediaMonkey and iTunes does. And video? VLC runs 100%, and VLC runs pretty much any vid format. So there.
How about iPhone?
I am using an iPhone4 – after I installed the right library, I can browse & read photos/files off the phone. However for song sync, I couldn't get Rhythmbox to sync with the iPhone just yet. Another alternative is to install MediaMonkey via WINE, but that kind of defeat the purpose. In short, support is not great – OK for file, but not OK for music/itunes. There also seems to be a way to install iTunes7 on Linux – but I haven't tried it yet. I'll update this post if I did.
Installation
Alienware came with a CD drive but I just dont feels like touching CD/DVD at all, It's 2013 so I'm going USB. So what I did was, I used LiLiUSB to "burn" an image of Ubuntu Live CD into the USB, and boot off that USB. Steps are as follow:
Download Ubuntu Live CD .iso – note that I went for Ubuntu 12.04 LTS for the long term support.
Dump the .iso into a blank USB & keep the USB there. You'll need it when you restart Windows as you want to boot from there.
Backup all the important files you have in Windows – just in case. This is stuff you should do on daily basis, actually – automated, hopefully. If not you should revise your backup strategy.
Restart your machine, and enter BIOS setting. I can't remember which key is it – it's in the restart screen (maybe F12?). Find the menu to setup the bootup disk, and make sure USB comes in before the HDD.
Ubuntu live CD should kicks in then. Read Ubuntu's installation guide.
And yes, at this point you can decide to just try Ubuntu off the live CD, instead of having to commit to the installation. I did this for about 20 minute, and when I realized that things are going to work, I took the plunge and commit to the install.
Points to remember:
NVIDIA Optimus & Bumblebee
As this page indicates: https://wiki.ubuntu.com/Bumblebee – it is possible to get NVIDIA optimus working under Ubuntu, and VERY smoothly too – I might add. I did notice that the fan is making more noise than when it is on Windows, but not by much.
sudo

add

-

apt

-

repository

ppa

:

bumblebee

/

stable

sudo

apt

-

get

install

bumblebee

virtualgl

linux

-

headers

-

generic
Working with external Monitor
My Alienware is sitting next to my desk, so I never open the lid on the laptop. Points to keep in mind:
Manage display using the Displays app (Launcher > "display")

For HDMI monitor, just plug and play – mine works without any tinkering.
I did notice though that my Alienware+Ubuntu don't boot up properly if I have the HDMI plugged in. So I had to plug it out when it is booting out, which is a pain. But then again, I never shutdown my laptop, if anything, I only suspend it these days.
To keep Ubuntu from suspending when the lid is closed, use Settings > Power. (launcher > "power"). You can specify Ubuntu not to suspend when Lid is close, when battery is plugged in.
Ubuntu 12.04 don't automatically wake up on Suspend on USB key / mouse input. See Suspend section.
Compiz Bling
Once installed and rebooted, then install compiz
https://help.ubuntu.com/community/CompositeManager/CompizFusion
sudo

apt

-

get

install

compiz

compizconfig

-

settings

-

manager
run ccsm (Compiz Config Setting Manager)
in the config, find Unity plugin, make sure this is enabled.
Wakeup on sleep
Reboot, press F2 on startup screen to enter Bios, and enable USB wake up.
Then, follow instruction from: http://bernaerts.dyndns.org/linux/220-ubuntu-resume-usb-hid
Restart the machine again.
Working with IPhone
IPhone integration to Linux (via the libimobiledevice) isn't going anywhere, basically. After a bunch of experimentation, the best way that I eventually settle down with is to use VirtualBox, Windows7 and MediaMonkey. Here's the general steps:
Install VirtualBox
Install Windows OS as one of the machine, just give it minimum setup egl 512Mb RAM and 1 CPU, with 20Gb disk. This would be enough (and will come in handy for various purpose, actually).
Install iTunes on this VM
Install MediaMonkey standard – this is my player of choice for managing music & iPhone in Windows. Heaps better than iTunes I think, less clutter and just works.
Once this is all setup, install VirtualGuestAddition on the Windows OS
Power off the VM, from the VirtualBox console, modify the settings of the VM so that the USB device are listed in there. Note that for this, you'll need to install VirtualBox Expansion set.
Once the VM can see the USB, check and see that the VirtualMachine can see your iPhone (and that MediaMonkey can manage it). With the right config, it's possible to make it so that the moment iPhone is connected to your AlienWare, it is detected entirely from the VM, and it launches MediaMonkey (not iTunes).
Once this setup is done, use HOST+L to bring the VM into Seamless mode. In Seamless mode, the VM display is interlaced with your desktop, making them appear together seamlessly – end result is below: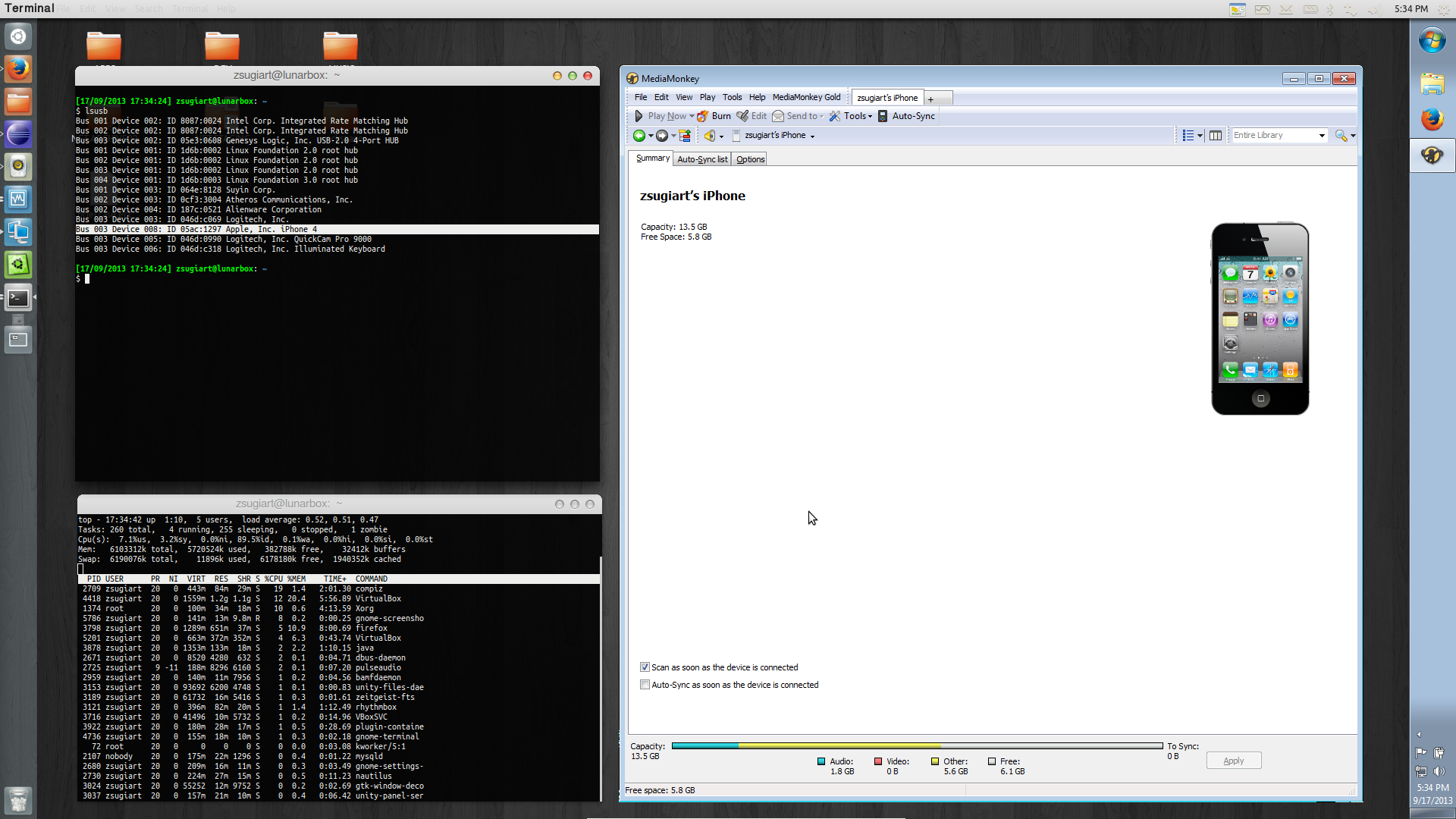 Others
Google Chrome: https://dl.google.com/linux/direct/google-chrome-stable_current_i386.deb; and then install the .deb
Java & applet: I decided to stick with IcedTea, for applet search for IcedTea Java Plugin in Software Center.
IPHONE: sudo apt-get install libimobiledevice-utils, can browse file – but no software to manage yet! I am currently not managing my iPhone via Ubuntu directly.
MICROSOFT OFFICE: install playOnLinux, then option for the version of Office you are trying to install. File can be mounted from drive, or disk.
Wallpaper Changer: install Variety (better than WallpaperChanger)
Terminal: install Guake
To add icons/shortcuts into the Unity application menu, add .desktop link into /usr/share/applications – once placed the app can be launched from Unity launcher.
Useful commands
Display mgmt
show display // xrandr
set brightness // xrandr –output VGA1 –brightness 1.0
mirror on secondary monitor (2nd display 'HDMI1') // xrandr –output HDMI1 –auto
turn off secondary monitor (2nd display 'HDMI1') // xrandr –output HDMI1 –off