After 2 and a half year in Japan, I've finally climbed to the peak of Mt. Fuji. This is something that I have been wanting to do since I got here – but for one reason or another I haven't been able to do it. This post is to note my travel in Mt. Fuji, some photos to share the experience, as well as pointers that I have learnt along the way. I ho[e that this note could be useful for those people who want to also do the same.
Overview on the climb
First off, let's start with a quote from Wikipedia on the great mountain:
Mount Fuji (富士山 Fujisan?, IPA: [ɸɯꜜdʑisaɴ] ( listen)), located on Honshu Island, is the highest mountain in Japan at 3,776.24 m (12,389 ft).[1] An active stratovolcano[5][6] that last erupted in 1707–08, Mount Fuji lies about 100 kilometres (60 mi) south-west of Tokyo, and can be seen from there on a clear day. Mount Fuji's exceptionally symmetrical cone, which is snow-capped several months a year, is a well-known symbol of Japan and it is frequently depicted in art and photographs, as well as visited by sightseers and climbers. It is one of Japan's "Three Holy Mountains" (三霊山 Sanreizan?) along with Mount Tate and Mount Haku; it is a Special Place of Scenic Beauty, a Historic Site, and was added to the World Heritage List as a Cultural Site on June 22nd, 2013.[7]

The mountain has been selected as a "cultural" rather than a "natural" heritage site. As per UNESCO, Mount Fuji has "inspired artists and poets and been the object of pilgrimage for centuries". The 25 locations include the mountain itself, Fujisan Hongū Sengen Taisha and six other Sengen shrines, two lodging houses, Lake Yamanaka, Lake Kawaguchi, the eight Oshino Hakkai hot springs, two lava tree molds, the remains of the Fuji-kō cult in the Hitoana cave, Shiraito Falls, and Miho no Matsubara pine tree grove.[8]
Climbing Mt. Fuji is actually not that difficult to do – you don't need to be a professional mountain climber to do it, provided that you go at the right time and through the right route. The journey is very time consuming, very tiring, but if an 101 year old man and 9 year old kid can do it, so can any average boy and girl.
There were 6 of us on the climb – it's a pretty international group actually: Aki (philiphine), George (new zealand), Ada (Hong Kong), Me (Indonesia), Jenn (Taiwan) and Medina-san (Japan). As you can see, we're not exactly athletic, but we can do it. Just make sure you bring in the right gear.
Guideline to climb Fuji
Mt. Fuji is safest and easiest to climb during the climbing season, which falls on July and August – which is at the middle/tail of Japanese summer. From middle September onwards, it is starting to enter the Typhoon season, and after that the temperature up at the mountain will start dropping as the season get closer and closer to winter.
There are many pages on the net that details the guideline for climbing Fuji "for newbies"
I won't re-write all that information in here, so for usual info on how to climb fuji, use the above link, or search google.
Planning your own trip, or via tour
For the climb, we didn't follow any tour, we basically plan our own trip – and reach the bottom of the trail (the 5th station) via public transport. On this there are some consideration to make
Tour is only slightly more expensive, than doing it yourself – and give you much more safety as everything is already pre-arranged.
Tour can also give you special deal, such as a trip to the onsen after the climb, which I think is a big bonus.
The biggest advantage for planning your own trip is the fact that you can choose the time to go. You can choose to leave earlier, later – and most importantly the whole team can be on standby waiting for a good weather to pop out. Once the weather turns good, then the team can go. This is because, weather plays a very important part as to whether the trip will be good, or ridiculously perilous. Needless to say, don't go unless the weather is good.
Mt. Fuji Weather & Temperature
Watching the weather is probably the most important thing to do. Rain on the mountain is relentless, and no matter the amount of gear that you have, water will still stream in from various parts of your body. There are not much room for shelter if you don't rent a hut. And believe me, once the rain starts dropping, EVERYONE will rush to the hut, within 10-15 minutes all of the huts will be full.
Outside the hut, without shelter, you will be exposed to the elements: cold winds, relentless downpour, continuous for 4-5 hours. In short: Don;t go unless the weather report says it will be sunny. Also, the weather report can change, since our team all work jobs, we can only go on Saturday-Sunday. Up to 4-5 days before, the weather can still change, but about 2-3 days prior, the weather is pretty much fixed.
Where to check the weather – note that the below pages from mountain-forecast.com also state the timing of sunrise.
The temperature at the peak/top is much colder than what it says: a 5 degree morning feels much more like 0 degree, or lower. This is because up there, the air is more moist, and the wind is very strong. So make sure you bring warm clothing to survive that coldness.
Trip Plan
The trail we go to is the easiest trail to do, which is also the most popular, most crowded, and the most lengthy trail out of the 4 main trail in Fuji. (The trail is long so as to make it not as steep to climb). Most of the climbing members live around Yokohama area, so though there are bus that can take you there from Shinjuku, we took the train from Shin-Yokohama to Kawaguchi-ko station, via Hachioji, and Otsuki. From Kawaguchi-ko, we take the Fujikyu bus towards the 5th station, and start the climb from there.
What to bring
Climbing gear: shoes, waterproof & windproof clothing, warm clothing for the top, etc. What if you don't have one?
You can rent it – Japan is a country that put tremendous emphasize on convenience.
http://www.yamarent.com/item/list/fujiset_male
The items are picked up at Fujikyu, you can go back to the place to return it after the climb.
Water & Food: enough for snack on the way up AND on the way down. Remember that all of the food/drinks can be bought from the huts on the way up – however the price is about 2.5-3 times the price if you get it from normal convenience shop. For food, pick food that will still be OK/edible even when compressed, with all that stuff in the bug, whatever bread or sandwich you bring will probably be squashed and squished into oblivion. I personally recommend rice balls ('onigiri') as they are already quite compact. For liquid, I bring 3 bottle: 1 bottle is water, 1 bottle is Pocari Sweat, and 1 bottle is protein shake. Also I bring 3 small bottle of energy drink (bring these, really help up there).
Hygene & other stuff: bring toothbrush and toothpase – you can still brush your teeth at the front of the hut, and spit all that stuff out into nature. Definitely bring extra pair of undies and socks – and wrap them in plastic bag inside your bag. In the offchance that the weather turns wet and shitty, you'd want this safe and dry. Don't bother to bring big towels for shower as the huts don't provide shower, bring small one for wiping sweat. Oh, and definitely bring sunscreen. Don't bother with Umbrella, if it rains, it will also be very windy and umbrella won't help. Bring heat packs, big ones – they will be useful at the top.
Common sense: research and bring enough – this is the highest mountain in Japan, not some hill over yonder.
Huts
We rest at the huts for 2-3 hours, cost us 8000 JPY for short rest and dinner. well, at the top you can't really choose. The hut list is obtained from the excellent GaryJWoolf.com site
The one that we go to is pretty high up, at the original 8th station. The Hotel speaks english and sleeps 350 people, so chances to getting a place to crash here is also higher than other smaller huts.
Fujisan Hotel (ESS)
富士山ホテル

0555-22-0237
0555-24-6512 (H)
090-7222-1465 (H)
Train Route
I used hyperdia to plan the train trip. This is the route we take – which also shows the cost.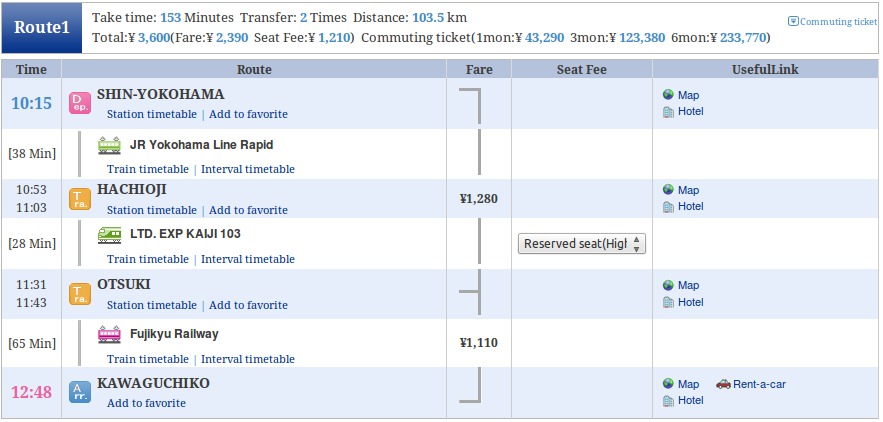 Journey Itinery
This is a table that summarize our travel, time column shows the time (as in 'what time is it'), and the duration column shows the time taken (as in, 'how long it takes'). So this table shows our travel starting from Shin-Yokohama Station, reaching Kawaguchiko station (eating lunch there), and then to the 5th station by bus, and so on
| | | | | |
| --- | --- | --- | --- | --- |
| type | place | duration | by | time |
| travel | Shin-Yokohama station | | | 10:00:00 |
| travel | kawaguchiko station | 2:40:00 | train | 12:40:00 |
| rest | # LUNCH | 1:00:00 | | 13:40:00 |
| travel | 5 stn | 0:50:00 | bus | 14:30:00 |
| rest | # SHOP & PREP | 1:00:00 | | 15:30:00 |
| travel | 6 stn | 0:30:00 | walk | 16:00:00 |
| rest | # REST | 0:15:00 | | 16:15:00 |
| travel | 7 stn | 1:20:00 | walk | 17:20:00 |
| rest | # REST | 0:30:00 | | 17:50:00 |
| travel | 8 stn | 1:50:00 | walk | 19:40:00 |
| rest | # REST | 0:45:00 | | 20:25:00 |
| travel | ori 8 | 1:50:00 | walk | 22:15:00 |
| rest | # DINNER, REST, PREP | 3:45:00 | | 2:00:00 |
| travel | peak | 2:30:00 | walk | 4:30:00 |
| rest | # REST | 0:30:00 | | 5:00:00 |
| | SUNRISE | | | 5:00:00 |
Climbing Map
This map is linked from the excellent GaryJWolff (again!) – there's a bunch of other maps out there, but I really want to give this guy credit for his work.
Map is shown here for convenience:
This is the map of 5th station,you can use google map to actually walk the route and see many pictures taken around the route. Also if you are planning to stay for many days around the area, you can also visit Kawaguchi lake (which can be easily reached from kawaguchi-ko station).

View Zen's Japan Map in a larger map
Other trip notes & pics
This is my climbing gear – I wear the heattech shirt from Uniglo, which I find to be very comfortable. The climbing spats is actually much more important than I thought. Having this will make the descend much more comfortable than if you don't have one, as it stops small stones from going inside your shoe. The sticks can be purchased from the 5th station – and I'd recommend you getting one of these too. They help during the ascend and descend, and you can get them stamped on various stations, they also make nice souvenirs of the trip.
Some people climb in these stuff, which I find to be very hilarious. However it kinda make sense as these costumes does keep the heat due to the fluffiness of the material. I mean, how cool is it to go up there as Winnie the Pooh?
The climb will actually take you above the lower-cloud level. Once you reach above the cloud, the sky is much clearer, and the sun much warmer, so bring sunscreen.
The food up the top is not exactly the greatest. But when you are hungry and tired, even these simple meal taste GREAT.
The huts is really, well, a hut. You sleep military style, one bed next to the other and it is extremely noisy. People constantly come and go – so bring eyecover and headphone, they reall help to block your senses and get the 2 hour rest you need. If you can't sleep, it's OK – AFAIK no one can really sleep in these huts anyway. Close you eye and rest your body – the body can still rest even when the mind can't. here's a pic of the hut sleeping area:
We depart from the huts at around 1:30pm, the hut people suggested us to leave at 1pm, but we didn't heed the advice. True enough, right after 1pm, there is a rush of people going to the top. The thing is, the way to the top is narrow, so if you don't go in early, you will have to join the queue to the top. At the top, there are limited space for "front row seat" to the sunset. I think it is worth going in a bit earlier than everyone – and if you have the right gear and you can survive the cold at the top, get that front row seat and prepare your camera.
The view of climbing trail after 1pm is surreal, it's like procession of spirits at night – except that they are everyone's headlight moving in the dark!
When the dawn is about to break, you can notice everyone really picking up their speed. You will know which direction East is, because the sky in that area will be illuminated in this eery, beautiful white glow. As time passes, it turns into the colour of dawn, a mixture of orange, white, blue and black. Air is cold and crisp and wind is strong. There's a gate at the top with 2 stone lions guarding it – the experience, despite having so many people around, is still very surreal.
( and I do wonder, how the hell did they get these stone lion all the way up there ).
Seeing the sun rise from above the clouds and amazing scenery is quite an experience. The view itself is not as moving as I thought it'll be – but it is a very, very spectacular sight. I remember watching the sun rising and feeling a great sense of accomplishment. After all, we are, 3776m up high on the highest peak in Japan.
I'd do it all over again, if you ask me. The journey is really worth the price and effort. If you are also planning to climb the mountain, I hope this post have been useful for you, and good luck for your climb!